C2X 818 CNC Profile Surface Grinding Machine
C2X – 818 Surface Grinding Machine has a work table that moves only longitudinally with total contact with machine bed as well as column support for cross feed movement that guarantee uniform contact between column slide as well as machine bed in any definite column site. The system also has a cartridge type spindle maintained by class 7 super (CPS) precision angular contact ball bearings that facilitate maximum run out of 0.002mm for offering stable as well as precise grinding hold up. For smooth as well as easy operation, all spindles are assembled by skilled technicians to offer least temperature changes, noise or vibration.
The working table offers only longitudinal movements. Thus there is complete contact as well as support from the machine bed, table limit position. V as well as flat guide constantly laminates with Turcite 'B' to assure smooth table movement in spite of of the load on the table.
The column offers just cross feed movement to make uniform contact between the column slide and machine bed in any column arrangement. The column slide is channeled by box type Turcite 'B' laminated ways to attain slip free movement.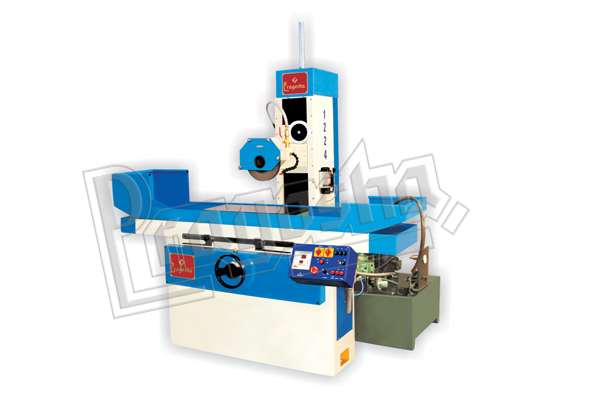 The spindle housing moves just vertically. This offers an invariable distance between the vertical slide as well as the grinding wheel, to generate absolutely perpendicular movement of the spindle to the working table. The housing is rigidly fabricated.
Technical Specifications of CNC Surface Grinding Machine :
GENERAL
Model No. C2X-818
Table size ( L * W )
mm
200*450
Grinding range ( L * W )
mm
200*450
Max. grinding height with new wheel and without magnetic chuck
mm
400
Distance from Table to spindle centre
Min.
Max.


mm
mm


82
400
Max. grinding width with relief at the front and rear
mm
225
Max. grinding width without relief at the front and rear
mm
200
Accuracy
As Per IS 2743
Control ( 2 Axis ) / Optional
HUST / Siemens
Programming
Standard 'G' code and 'M' code, With NC File
Grinding Wheel
Diameter Max.
mm
200
Width Std.
mm
19
Bore
mm
31.76
Wheel Spindle
KW
1.5
VERTICAL SLIDE (X-AXIS)
Stroke
mm
315
Rapid traverse
m/min
3
Min. programmable increment
mm
0.01
TRANSEVERSE SLIDE (Z-AXIS)
Stroke
mm
225
Continuous feed rate
m/min
3
Rapid traverse
m/min
3
Min. programmable increment
mm
0.001
Automatic intermittent feed each table stroke
Programmable
Table
Max. Longitudinal traverse
mm
18
Infinitely variable speed
m/min
1000
Hydraulic Motor Power
kw
0.5 to 10
Max. weight of the job
( I ) with chuck
(ii) without chuck


Kg
Kg


100
150
OPERATING SYSTEM
X-Axis
With L.M Guide, Ballscrow, and Servo Motor
Z-Axis
With L.M Guide, Ballscrow, and Servo Motor
Repeatability for 6 consecutive readings
Repeatability for 6 consecutive readings
mm
0.002
Total connected power (approx.)
kw
6.0